About Us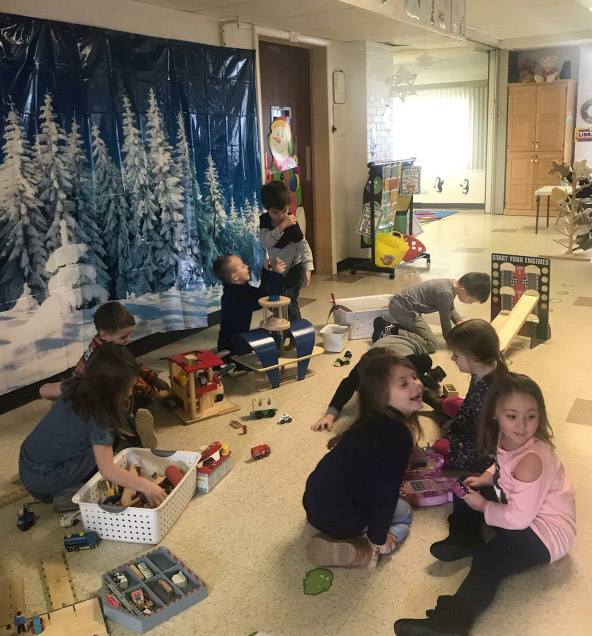 Butterfly Hill Preschool is a church sponsored preschool program, which is offered to the community through the Session of the Elderton Presbyterian Church. Nine personnel along with the help of volunteers in various areas make up the team to operate this program successfully. Children attend from many different school district areas: Armstrong School District (Elderton, Kittanning Twp., Shannock Valley, Dayton, Lenape, West Hills Elementary schools), Apollo-Ridge, Marion Center, Indiana Elementary schools.
Butterfly Hill Preschool provides the preschool experience to children 2, 3, 4 and 5 years of age.
Our Goal
To give each child a sense of high self-esteem and confidence.
To help each child grow in the areas of physical, emotional, social and academic development.
To provide a calm, orderly and organized atmosphere that is filled with stimulating objects and activities chosen to encourage discovery and learning.
To see that no child would be turned away due to a handicap or disability.
Curriculum
The curriculum is designed by the personnel to help the children develop social, academic, physical and listening skills to prepare them for their public school years. Up-to-date lesson plans are designed to coincide with preparation for the Armstrong School District Kindergarten program and their guidelines.
The personnel work closely with kindergarten teachers and the ARIN Intermediate Unit.
Program Coordinator
Jeanne Speer coordinates the preschool operations with qualifications and experience of an early childhood education. Along with 7 teachers on staff, they make all the plans for classroom activities and learning for the children.
jeanneaspeer@gmail.com
Parent Cooperation
Some requirements for a parent(s) when a child attends Butterfly Hill Preschool:
Make tuition payments by the 1st of each month
Provide transportation for your child to local field trips
Provide snack for your child's class on assigned snack day