2004 & 2000 Cantata
He's Alive!
"He's Alive"- A Celebration of the Living Lord
From the dawn of time it has been God's eternal plan to have a loving relationship with mankind. He's Alive! Celebrates God's redemptive love-that while He passionately loved His people, He had to destroy the evil that enslaved them. On the cross, Jesus absorbed that destructive force and turned it into love. Jesus came not only to settle divine justice and show His disciples what God is really like – He came to establish a Church, a new dwelling place for the Spirit of God. Today, we are encouraged to share the good news that He is alive!

2004 Presentation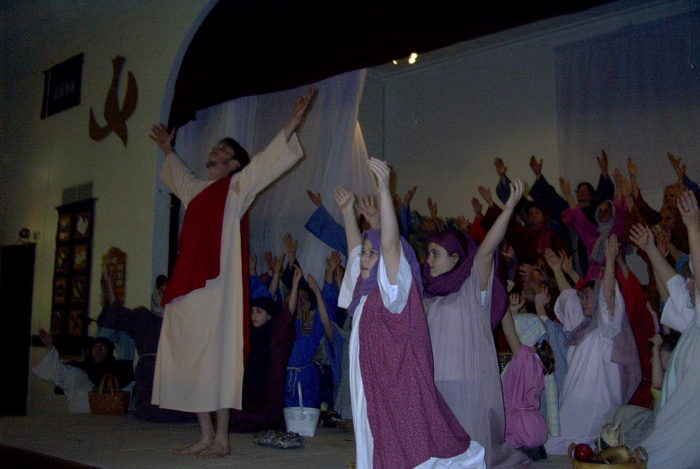 Choir: Beth Aikins, Louise Boyer, Lois Brown, Maryanne Brown, Cassie Clowser, Loretta Coleman, Dee Craig, Blythe Johns, Terry Johns, Vanessa Milleman, Karen Olsen, Jean Quinn, Adam Quinn, Tom Quinn, Linda Richardson, Lori Rodgers, Shirley Schall, Mark Schrecengost, Nancy Schrecengost, Kathy Jo Scrips, Joe Scrips, Patti Scrips, Kirsten Stiffler, Nancy Zelenski
Drama: Sharon Aikins, Gail Barr, Scott, Brenda and Brittany Coleman, John Craig, Bill Creighton, John Erthein, Heidi and Owen Fleming, Pam, Brittany and Ashley Gaff, Kris and Leah Hilty, Doris Howard, Krista and Laney Johnston, Rick Milleman, Candy, Scott, Jessica and Kent Mummert, John Quinn, Jill and Leya Ramer, Butch and Linnie Rodgers, Eric, Susan, Hannah and Luke Schrecengost, Mark, Regina, Mark Jr., Miranda, Amanda and Beth Schrecengost, Cory Scrips, John Stiffler
NARRATORS, LIGHTING, SOUND, CURTAIN, BEIIlND THE SCENES, PUBLICITY, PROPS, COSTUMES, NURSERY, GREETERS, SOCIAL HELPERS: Senta Zelenski, Dominic Tirabassi, Mike and Pam Flickinger, Allan and Sally Peace, Tom and Bret Spencer, Brian Dyett, Blair Brown, Paul Meyers, Jeanne Speer, Sue Stitt, Barb Creighton, Marion Kunkle, Suzanne Quinn, Karen Schall, Margie Wood, Kim Anderson, Martha Dyott, Harry and Gladys Johns, Donna Howard, Gerald Howard, Ryan Scrips, Sarah Shaw, Laurie and Sarah Pritt, Sabrina Balister, Larry and Linda Prugh, Bud and Helen Schall, Kim Spencer

Many of the people listed helped in many phases of this production, but their name is only listed once for space.

To all those who furnished props, material, money for equipment, etc., etc., etc.

And a special thanks to those who furnished cookies for our 'socials' afterwards.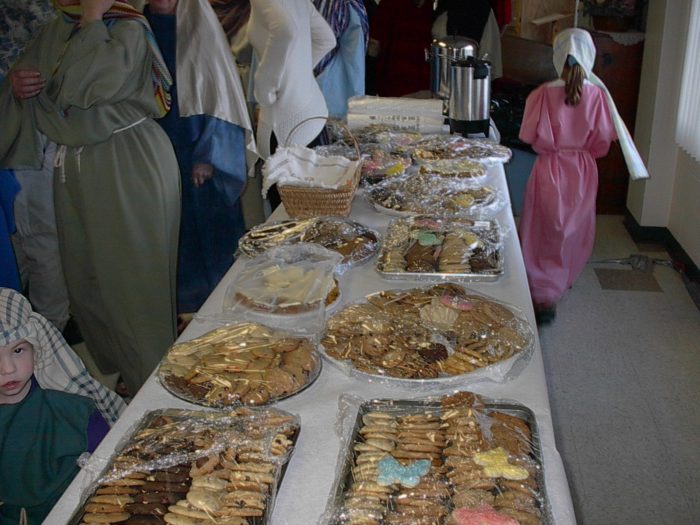 As you can see from the list, many from our congregation was a part of this wonderful ministry to the community. We are a family – but after spending every Sunday with each other – it made us even closer. And we're sure the young children that were involved will remember this always